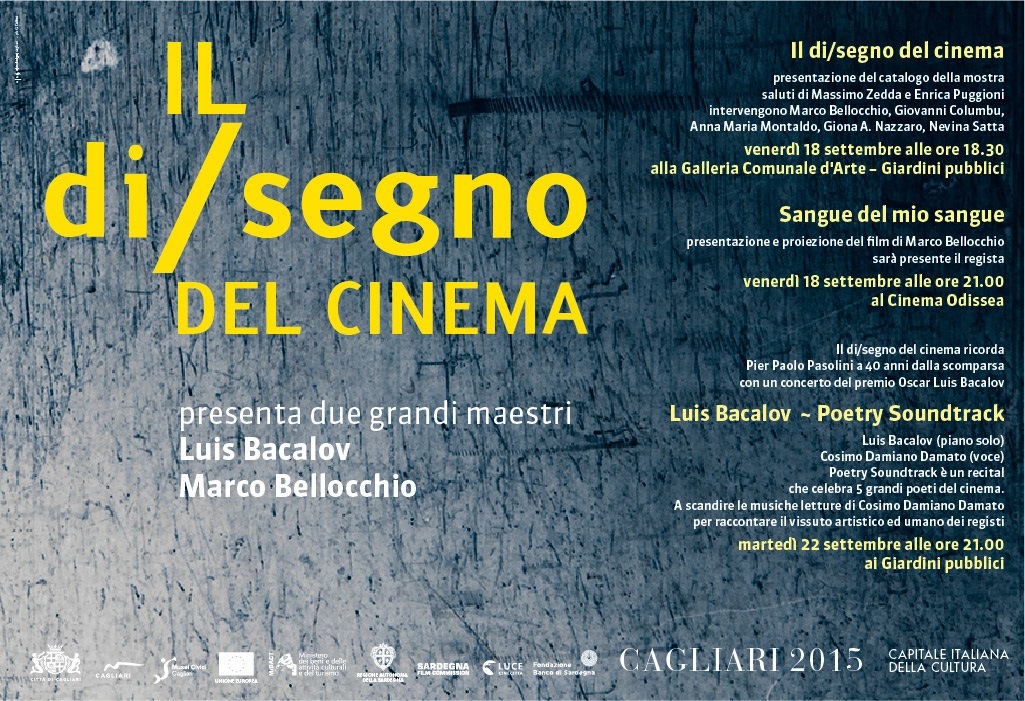 REPORT                             
IL DI/SEGNO DEL CINEMA 
Curators:
Giovanni Columbu
Anna Maria Montaldo
Giona Nazzaro
Palazzo di Città – Cagliari
23rd of July – 18th of October 2015
The exhibition Di/segno del cinema is an exhibition project of Cagliari's Musei Civici, part of in the Cagliari Italian Capital of Culture 2015 programming, supported by the the Sardinia Film Commisison Foundation in collaboration with the Istituto Luce Cinecittà.
The exhibition has displayed the drawings, the paintings, the installations and the visual notes that, in the work of some Italian directors, are integral to the conception and realization of a film. The exhibition was held in one of the most prestigious venues of the Musei Civici of Cagliari, the Palazzo di città, an old town hall that has now become a museum devoted to contemporary art.
The project included, in addition to display of drawings and visual installations, the screening of a review, curated by our Foundation, set among the beautiful surroundings of the Giardini Pubblici and the Cinema Odissea, and several public talks with directors in Cagliari.
These were the films involved: Sangue del mio sangue by Marco Bellocchio, Su Re by Giovanni Columbu, Tir by Alberto Fasulo, Il Dono by Michelangelo Frammartino, Il racconto dei racconti by Matteo Garrone (with drawings by Makinarium, a team of FX specialists), The dark side of the sun by Carlo S. Hintermann, La bocca del lupo by Pietro Marcello, Teatro di Guerra by Mario Martone, Volere Volare by Maurizio Nichetti, Mancanza Purgatorio by Stefano Odoardi, Pesi Leggeri by Enrico Pau, Nostos – Il Ritorno by Franco Piavoli, C'eravamo tanti amati by Ettore Scola, Maraviglioso Boccaccio by Paolo e Vittorio Taviani (with costumes and drawings by Lina Nerli Taviani).
It is a wide-ranging initiative that, beginning with the exhibition, has been further developed into a multimedia network in which cinema, meetings with its protagonists (who were present in the screening days), master classes and workshops have been part of the living body of the city.
The exhibition, scheduled for two months, from the 23rd of July to the 27th of September, has been extended until the 18th of Ottobre 2015. 
We had 9000 visitors, and 1400 spectators enjoyed the review.